Ultra Dark Chocolate Truffles with Organic Raspberry: All Natural, Handmade, Gluten-Free Chocolates
Meet Bo Peep, the black sheep of the Cocopotamus family. Deeper, richer and of course, darker. She's a darling at a stunning 88%. The flavors of this deep fudge truffle start with the darkest fudge ever. Next, we infuse it with a double dose of pure Mexican vanilla. The perfect final touch? Just a sheepish hint of organic black raspberry from the Pacific Northwest. Like all our Cocopotamus fudge, Bo Peep is handmade artisanal dark chocolate fudge in a hand-dipped dark chocolate truffle. Bo Peep is finished with a roll in amazing extra dark fort brut cocoa powder from Switzerland.
Honest Ingredients: All natural gourmet chocolate fudge truffles. Gluten Free. No Corn Syrup. No Preservatives. Always Fresh.
Personality: Black sheep of the Cocopotamus family
Flavor Profile: Darkest fudge truffle - a stunning 88%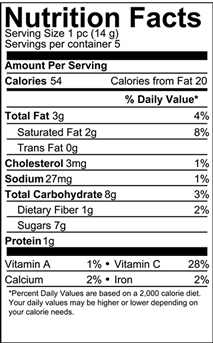 INGREDIENTS: Extra Dark Cocoa Paste, Cocoa Butter, Whole Milk, Natural Cane Sugar, Cocoa Powder, Pure Vanilla Extract, Vegetable Oil, Organic Raspberry Flavor, Sea Salt, Vitamin C, Soy Lecithin.
CONTAINS: MILK & SOY. May contain traces of tree nuts.