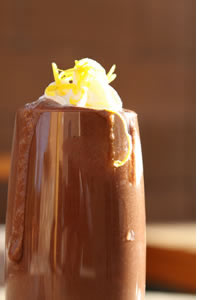 In a heavy saucepan, combine:
1 pint double heavy cream
2 pints milk (2% or other)
zest of 2 lemons
1 ½ tsp pure lemon extract
1 tsp pure vanilla extract
2-3 heaping tsp dark Dutch processed cocoa powder
Put in the fridge overnight, covered.
Strain through a sieve. Add 4 - 5 Tbsp powdered sugar. Serve with whipped cream. To make it extra Coco-P? Add a scoop of lemon gelato when you serve it! Or a scoop of chocolate gelato. Or both!
Vegan Option: to make a great vegan or "non-dairy" chocolate, substitute unsweetened soy milk for the cream and milk and use non-dairy whipped topping to garnish.