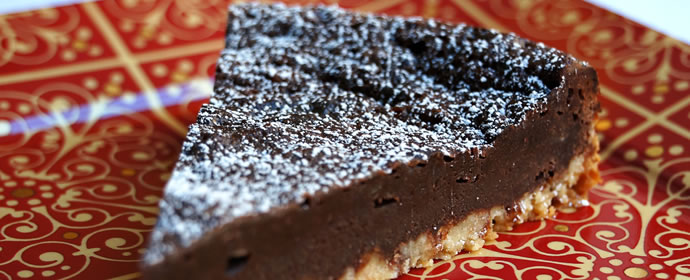 Ingredients:
Crust
1/2 stick (4 Tbsps) unsalted butter
Pinch salt
1 heaping tablespoon confectioners' sugar
1 cup almond meal
2 to 3 tablespoons toffee baking bits, optional
Filling
1 shot espresso
12 ounces semisweet chocolate (preferably not chocolate chips)
1/2 stick (4 Tbsps) unsalted butter
3 large eggs if near sea level, 4 if at 5,000 ft or higher
1/2 cup granulated sugar
1/3 cup whipping cream
1.5 teaspoons pure vanilla extract, preferably Mexican (such as Nielsen-Massey)
Pinch salt
Confectioners' sugar
For Crust
Melt butter with salt in small pan on stovetop over medium-low heat. Stir in confectioners' sugar and almond meal. Mixture will be a bit sticky. Scrape mixture into 8 inch spring-form pan and press into even layer. Bake 6-9 minutes or until just slightly browned. If you wish, sprinkle with toffee bits while warm and gently press bits down into crust. Set crust aside on baking rack to cool.
For Filling
Make or buy 1 strong shot espresso coffee and let cool. Alternatively, use 1 teaspoon instant espresso mixed with 1.5 tablespoons hot water. Set espresso aside.
Melt chocolate with butter on top of double boiler. Stir to combine, then set aside to slightly cool. Lightly whisk eggs just enough to combine them. Do not overheat. When chocolate has cooled, whisk eggs into it. Add sugar, cream, vanilla, salt, and espresso, mixing jsut enough to combine. Pour filling over crust. Bake 18 to 22 minutes or until set (wiggles only slightly at center).
Cool tart on wire rack at least 10 minutes before serving. Serve warm or at room temperature. Slices can be cut more neatly when cool. Dust full tart or individual pieces with confectioners' sugar and serve.
Recipe © 2012 by Cocopotamus/NYDC Chocolate LLC.