Gluten-Free Cheese Blintzes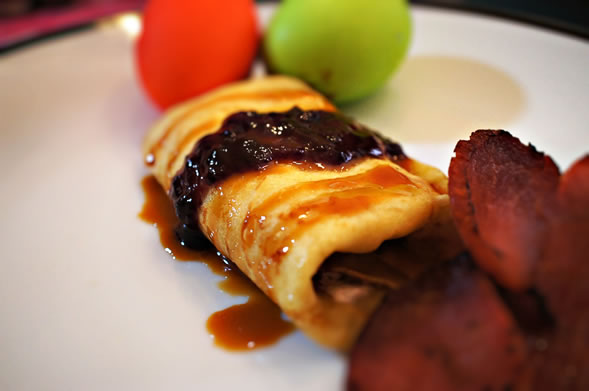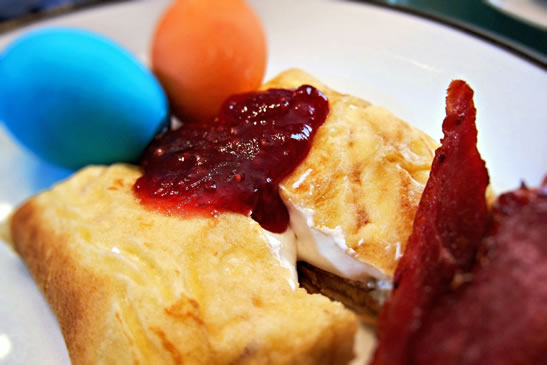 Ahhhh...cheese blintzes...they have to be our very favorite breakfast food. We made this on Easter Sunday and it turned out beautifully. It has a light chewy texture like the best gluten version, but gluten-free. They are so delicious there is no compromise on taste by going gluten-free. In fact, no one can even guess they are gluten-free. Enjoy!

INGREDIENTS:
1.5 cups Gluten-free flour (we like King Arthur gluten-free)
4 Large eggs
3/4 tsp Yeast
1 Tbsp Sugar
1/2 tsp Salt
1/2 tsp Baking Powder
1/2 tsp Vanilla
3-4 cups Milk
Butter (for greasing the pan)
FOR THE FILLING:
1 cup Cottage Cheese
1 cup Cream Cheese
4 tsp Sugar
1/2 tsp Vanilla
To make the filling:
Reserve 1/3 cup of cottage cheese and blend the rest of the ingredients together.
Stir in the remaining 1/3 cup cottage cheese.
Set aside.
To make the gluten-free blintzes:
Dissolve the yeast in 2 Tbsp of warm water. Set aside.
Mix all the dry ingredients (gluten-free flour, sugar, salt, baking powder) in a large mixing bowl.
Into the same bowl, whisk in the yeast mixture, milk, eggs, & vanilla. Start with less milk and add gradually as needed. How do you judge this? Your batter should come out thin & runny - like a melted milkshake! If it is thick like pancake batter, add more milk. When it is thin enough to pour well but just thick enough to coat a wooden spoon - perfection.
Heat a 10 inch flat-bottomed non-stick frying pan on medium heat. Add a dollop of butter. Use a ladle to pour batter in. Swirl it around to spread it evenly over the bottom of the pan. You want a thin coating to make a thin blintz. Usually, this is about 3/4 of a ladleful of batter from a large ladle.
When you see the edges start to curl up (and the bottom is starting to brown), flip the blintz. It will cook faster on the second side. When browned, remove to a large plate and cover with a clean cloth. Keep cooking till all your blintzes are done.
We like to put the filling on the table and let people fill their gluten-free blintzes themselves. However, the real way is to fill the blintzes with filling and quickly fry them like little "packages", then serve them. To do this: take one blintz, put some filling in the center, and fold it into a square (think of it like an envelope). Fry on medium heat till browned. (You may need more butter). Serve right away.
Either way you do it, serve with a good quality jam - we like organic raspberry but use your favorite. Another great condiment is sour cream, and some who like things sweet also enjoy whipped cream. Bacon is great on the side of course! (Correction: bacon is awesome.) We prefer Canadian bacon, a perfect companion to the gluten-free blintzes. For those who do not need to eat gluten-free, they will love these so much too! Honestly you cannot tell.