Darth Vegan - Black Coffee Vegan Truffles
Meet Darth Vegan, the third vegan truffle here at Cocopotamus. Darth Vegan takes coffee to a new level, and is totally vegan & gluten-free. The flavor experience begins with the amazingly dark chocolate of this powerful truffle. It is an intense journey to the dark like the deepest, darkest brownie you've ever tasted. Then comes the best part, strong, robust black coffee. The jolt of java in these babies is insane! A dash of pure vanilla and a pinch of sea salt bring out the depth of flavor even more. The "icing on the cake" with this black coffee vegan chocolate truffle? A dark roasted coffee espresso coffee bean, perched on top!
Honest Ingredients: All natural gourmet vegan chocolate truffles. Gluten Free. No Corn Syrup. No Preservatives. Always Fresh.
Personality: Welcome to the Dark Side.
Flavor Profile: Dark chocolate vegan brownie with coffee!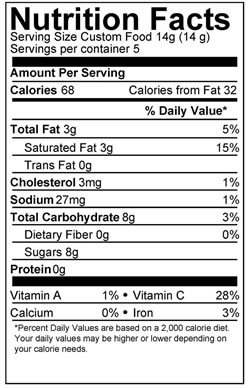 INGREDIENTS: Extra Dark Cocoa Paste, Natural Cane Sugar, Cocoa Butter, Cocoa Powder, Espresso Coffee, Pure Vanilla Extract, Vegetable Oil, Sea Salt, Vitamin C, Soy Lecithin, Espresso Coffee Beans.
CONTAINS: SOY. May contain traces of tree nuts.