Gourmet Dark Chocolate Truffles with Canadian Maple: All Natural, Handmade, Gluten-Free Chocolates
Meet Blame Canada, one of our favorite chocolate truffles. It's the kid next door ya gotta love - an amazing match of pure Canadian maple with dark chocolate and the crunch of Turbinado sugar. The flavors and textures of this fudge are to die for. Simply put, we blame Canada for such an outrageously yummy blend. The flavors blend perfectly to create a unique explosion of flavor.
Like all our Cocopotamus chocolate truffles, Blame Canada is handmade, artisanal, all natural, dark chocolate fudge in a hand-dipped dark chocolate ball. Blame Canada is topped off by a roll in the sweet crunch of Turbinado sugar.
Honest Ingredients: All natural gourmet chocolate fudge truffles. Gluten Free. No Corn Syrup. No Preservatives. Always Fresh.
Personality: Crush on the girl/guy next door
Flavor Profile: Deliciously pure maple with Turbinado sugar crunch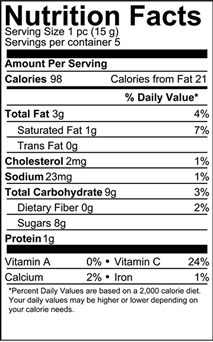 INGREDIENTS: Cocoa Paste, Whole Milk, Natural Cane Sugar, Cocoa Butter, Cocoa Powder, Pure Maple Extract, Natural Turbinado Sugar, Natural Vanilla Extract, Vegetable Oil, Sea Salt, Vitamin C, Soy Lecithin.
CONTAINS: MILK & SOY. May contain traces of tree nuts.