As you know, all of our gourmet chocolate and fudge is handmade daily. Freshness is our middle name. We want you to enjoy our gourmet chocolates as soon as they've been created, hand dipped, and packed. So with that in mind, here's how we're going to ship the gourmet chocolates out to you, fresh and speedy, yes indeedy.
Chocolate Shipping Days & Delivery
We make our gourmet chocolate fudge daily and ship it out to you FRESH, guaranteed! We ship our chocolate truffles Monday to Thursday (Mon - Fri during the holidays and Valentine's season). No P.O. Boxes, please.
Due to volume of orders during the peak season, we do sometimes sell out of the day's batch. When that happens we will notify you right away and you will be in line for the very next batch, fresh.
Chocolate Delivery Method
FedEx is our choice. You can choose Ground, 2nd Day Air or Overnight. Of course, the sooner you get our gourmet chocolate fudge, the sooner you'll be able to indulge in our decadent chocolate. Yes, that smooth, melt-in-your-mouth feeling can be as little as a day away. Oh, please note that when the temperate outside is below 80F, you can select Ground, 2nd Day, and Overnight shipping. You know, that heat thing doesn't agree well with chocolate. So if you live in places (all Southern, Southwestern states, and the East Coast) where temperatures in the summers are well over 85 degrees, please use 2nd Day Air or Overnight shipping to ensure quality arrival.
We ship our gourmet chocolate Monday through Thursday for Overnightshipping. If you choose 2nd Day Air, we'll ship Monday through Wednesday. For Ground shipping during cooler months, we'll ship out Monday through Wednesday only if the outside temperature is below 80 degrees F. We're in Albuquerque, New Mexico. So if you're in the East Coast, it can take up to 5 days to get to you using Ground Shipping as a guide. We don't ship close to the weekends simply because we want the chocolates to melt only in your mouth and not in the shipping warehouse. (We care!)
Warm Weather Chocolate Shipping
As you might already know, we're picky about the quality of our gourmet chocolates. We ship our gourmet fudge with frozen gel packs and wrap everything in an insulated 100% recyclable bubble foil pack during the warmer months (typically between June and mid September). The frozen packs can usually keep the chocolate fresh for about 2 to 3 days, provided that the temperature is well below 80 degrees F. If you're shipping our gourmet chocolate to places where it's known to be very hot in the summer(e.g. all South & Southwestern states including Arizona, Texas, Alabama, Georgia, Louisiana, Florida, etc. ) or for longer distance to the East Coast, please select 2nd Day or Overnight shipping . The following table indicates our shipping schedule based on FedEx's color zones. FedEx Ground does deliver on Saturdays. Yeah!
| | | | | |
| --- | --- | --- | --- | --- |
| | Mon | Tue | Wed | Thurs |
| Ground | | | | |
| 2nd Day Air | | | | |
| Overnight | | | | |
Following is the FedEx Ground Shipping map indicating the shipping time from our artisanal, gourmet chocolate factory in Albuquerque, New Mexico to the destination. Please select the appropriate shipping method according to your local temperature. Rule of thumb: select 2nd Day or Overnight shipping if your local temperature is above 85 degrees F.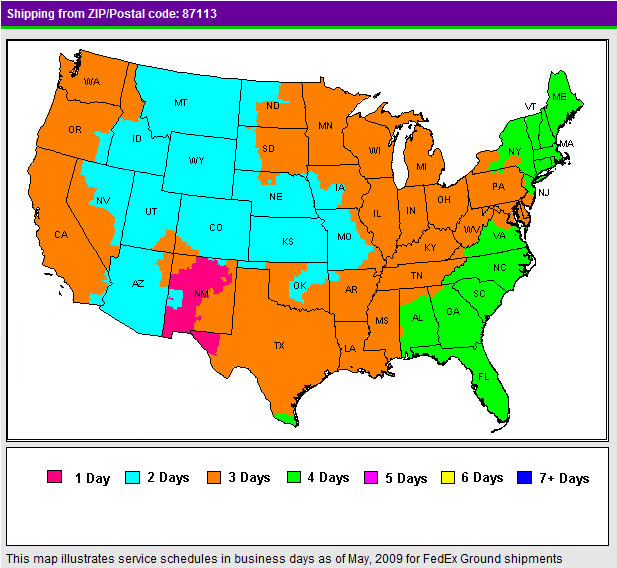 Gourmet Chocolate Order Tracking
Of course you'll want to know how far along your chocolate order is. We make it easy for you to check the shipping status. You'll receive an email from us confirming that your chocolate is on its way. There you'll find a tracking number. Just click on it and it'll take you to the shipper's site where you can find out the latest. Or you can simply log in to "Your Account", click on your order number and voilà, the tracking number is there. Start drooling.
Chocolate Fudge FYI
1. Please make sure that the shipping address is correct. FedEx will leave your gourmet chocolate at the address you specified even if no one is available to sign for them. NYDC Chocolate (Cocopotamus) won't be responsible for missing or stolen packages after they're delivered.
2. If you're shipping the gourmet chocolate to someone else as a gift, you should let them know that Cocopotamus Chocolate will be arriving soon. It'll create anticipation and extra appreciation. And they won't leave the gourmet chocolate out in the warm weather for too long.
3. No P.O. Boxes please. Well, you know why. Chocolate and heat don't like each other very much.