Chocolate: Our World Of Joy
Our philosophy is to live with vision, humor, and joy. Our vision is of a luxuriously delicious yet down-to-earth line of all-natural, gourmet chocolate truffles. Our sense of humor dictates that we keep it fun & keep it real. Using the best ingredients from the many cultures that make up the new America - and the world. Our passion for living everyday joy - through family, friends & food, through the seasons of each year, and the seasons of our lives. That's the joy infused in our chocolate. The joy that comes from using true vision to find your passion, to live it, and to share it. Because after all, joy is not some big, elusive quest. Joy is life & love, family & neighbors, friends & fudge.
Joy is keeping an American tradition like chocolate fudge growing and changing with the times. Fudge happens. Have a ball!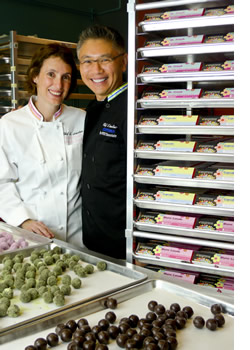 Back in 1995, we, Max & Ally, said buh-bye to the corporate world and started an award-winning dessert cafe restaurant called NYDC. (Check out our reviews - yay!) We wanted to create a place where people could connect, share their joy, let their hair down; enjoy great food, and good friends. Personally, we have a deep love for food. We love to cook, bake, and make chocolate and we do it with joy. The root of our love for great food is the way it brings families and friends together and cements our relationships with each other. From the time we started NYDC, we believed that we could play a small part in uniting the people of the world. Through the golden link of food, we come together. We were inspired by the joy we received from our world travels and our grandmothers. We want to share that joy with you.

We've been blessed with incredibly talented grandmothers. They could make everything! Home-made wine, hand-dipped chocolates, ice cream, even mayonnaise. When Max lost his grandmother who had raised him, it struck us quite forcefully. The loss was more than the loss of a wonderful, strong, competent, and skilled woman. All her many culinary creations were gone. We were inspired to create food that would keep some tradition alive and well, growing and vibrant - so more would not be lost. Our passion is chocolate, so we chose to reinvent fudge. Cocopotamus Chocolate by NYDC Chocolate opened its doors in June 2009.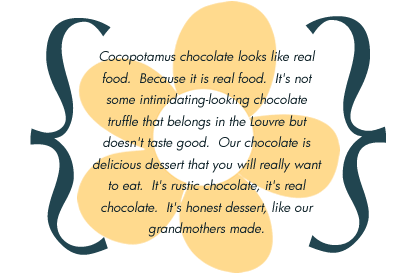 You may know that chocolate fudge is one of the few true American chocolate inventions. We believe that this humble confection deserves to be kept alive. Why do so many chocolatiers think that only European style candies and chocolates are great? We say there can be greatness in humble chocolate fudge, and we're here to prove it. We hope to inspire people to come together and share great food the way our grandmothers did, to appreciate traditions from all over the world, and to value them.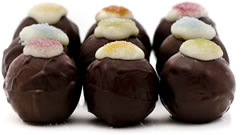 Old-fashioned chocolate fudge can be dry, grainy and cloyingly sweet. For the modern era, the humble chocolate fudge needs a "makeover". Our modern twist? Cocopotamus chocolate fudge is smoother, creamier and less sweet than old-school chocolate fudge. We use the highest quality chocolate (from Belgium & Switzerland) and amazing ingredients from around the world - things that just weren't available to Grandma. The result is chocolate fudge truffles that are extra creamy, deep, dark, rich and luscious. Never too sweet. Complex, with amazing depth of flavor. Next, we just had to get rid of that awful "slab of fudge" thing… So, we put our modern dark chocolate fudge into dark chocolate truffle shells, and hand-dip them in still more dark chocolate. (Yum!) Now this is an American fudge that can truly rival the very best European chocolate truffles.
While we were at it, we went that extra step and made our chocolate truffles all natural, wheat-free, gluten-free. And, we vowed never to use any corn syrup in our chocolate, let alone high-fructose corn syrup. It's on that banned list, right alongside preservatives, anything artificial, and anything we can't pronounce. 'Cause here at Cocopotamus, we're label readers.
So, that's our makeover of chocolate fudge. Tah-dah! Cocopotamus fudge truffles are uniquely in and of the new America. Honest dessert. By real people. For real people.