E=MC Squared - Triple Shot Colombia Espresso Dark Chocolate Truffles
Product Description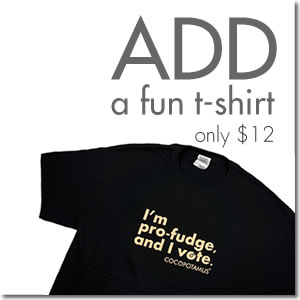 Gourmet Chocolate Truffles w/ 3x Shot Columbian Espresso: Handmade, All Natural, Gluten-Free
Meet E=MC Squared, the genius here at Cocopotamus. Yes, old "Einstein" as we call him is quite the flavor. Rich. Dark. Fragrant. Everything you want in a fudge! E=MC Squared is made from top quality dark chocolate infused with a triple shot of dark roasted Colombian espresso coffee. The flavor starts with the amazing aromas and flavors of the coffee. As you savor this espresso chocolate blend, it creates a mocha sensation on your taste buds. Like all our Cocopotamus fudge, E=MC Squared is handmade artisanal dark chocolate fudge in a hand-dipped dark chocolate truffle. Extra good because we top it with a drizzle of espresso frosting.
Honest Ingredients: All natural gourmet salted caramel fudge. No Corn Syrup. No Preservatives. Wheat Free. Gluten Free. Always Fresh.
Personality: The brainy type
Flavor Profile: Intense espresso coffee for the caffeined-addicted. WARNING: May cause temporary Einstein-like crazy smarts!
Find Similar Products by Category
Customers Who Viewed This Product Also Viewed